Written by AGS, September 9th, 2019
August brought a new kind of show to the Orlando trade show market. With over 2,700 attendees, 150 breakout sessions, buzz-worthy speakers and monumental show sponsors taking their booth spaces to the next level, 2019's Podcast Movement was a show for the record books. We rolled out our innovative Event Incubator program on PM19 and unleashed its power on this year's event with head-turning success.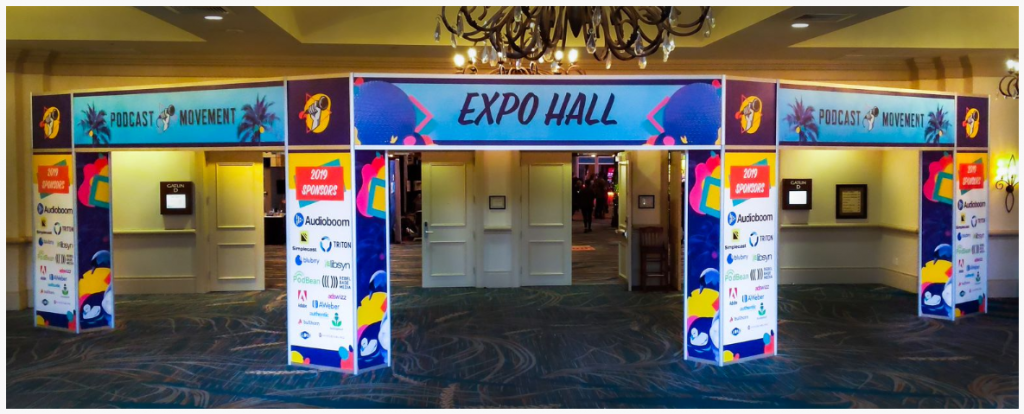 Event Incubator – Changing the Process, Delivering Exceptional Results

When AGS signed on as the Official Contractor for Podcast Movement, we knew it was the perfect candidate for Event Incubator, a complimentary service designed to help show planners take their growing events to the next level. We take the existing show and look at it from every angle, creating a fresh event-scope from scratch. We start by reviewing past events, researching the industry and competition as well as establishing best practices from a marketing and ROI standpoint.

We then propose a series of solutions, and a detailed execution plan, for elevating the event – everything from sponsorship opportunities that drive attendee engagement to designs that create an immersive experience. We sprinkle that with a little something extra, and we have an event that lives long beyond the show dates.







Sponsorship Engagement with Creative Solutions

We believe in strong partnership between show management and their sponsors. We identified empowered sponsorship would be instrumental to the success of the growth of the show and took to enabling this change on the floor. AGS worked closely with the top sponsors of the event to elevate their branding and ROI objectives to the next level through dynamic attendee engagement and stunning graphics.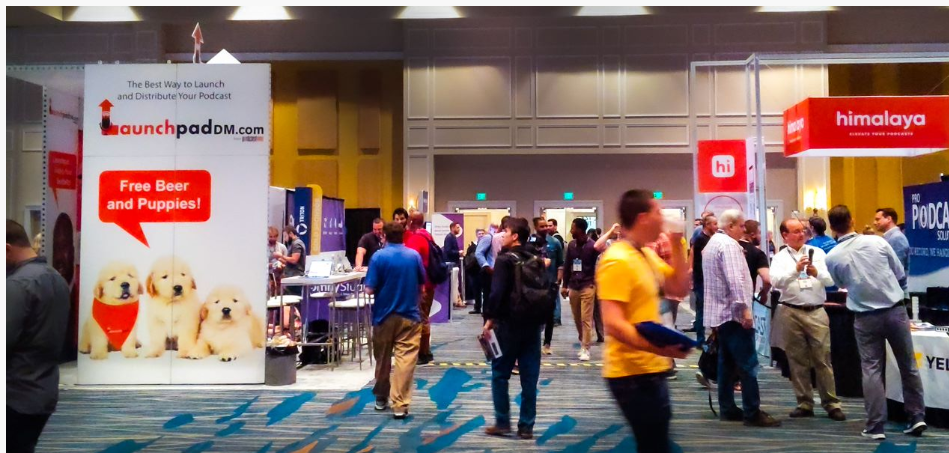 How do you drive traffic to your booth? One way is to offer a fun commodity that gets people to not only approach your space, but people start talking and enjoying themselves. Podcast One decided to use their booth space to showcase their new offering LaunchpadDM with a memorable event experience – free beer and puppies (yes, puppies!) took center stage in striking booth designs by our creative team.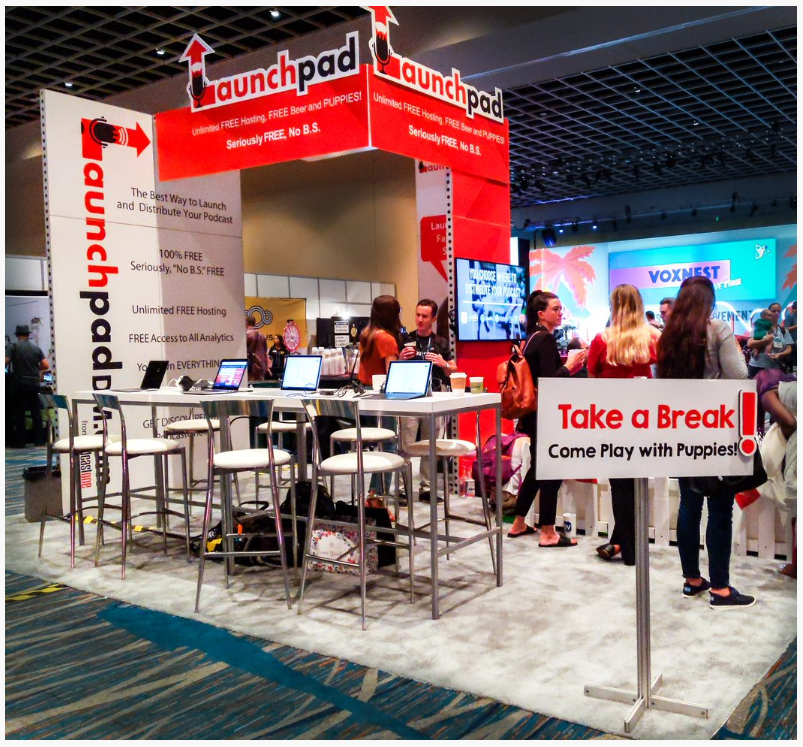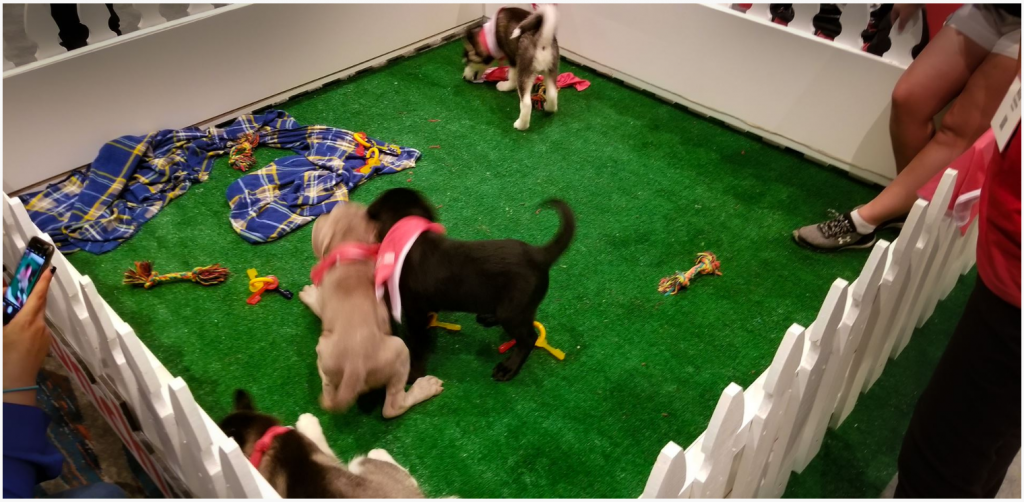 Giving Attendees Space to Shop, Charge & Learn

We worked with Neilsen to turn their event space into a haven for charging up attendee devices, getting a little work done, and even used to podcast right from that spot. It was a much appreciated space in constant use throughout the show.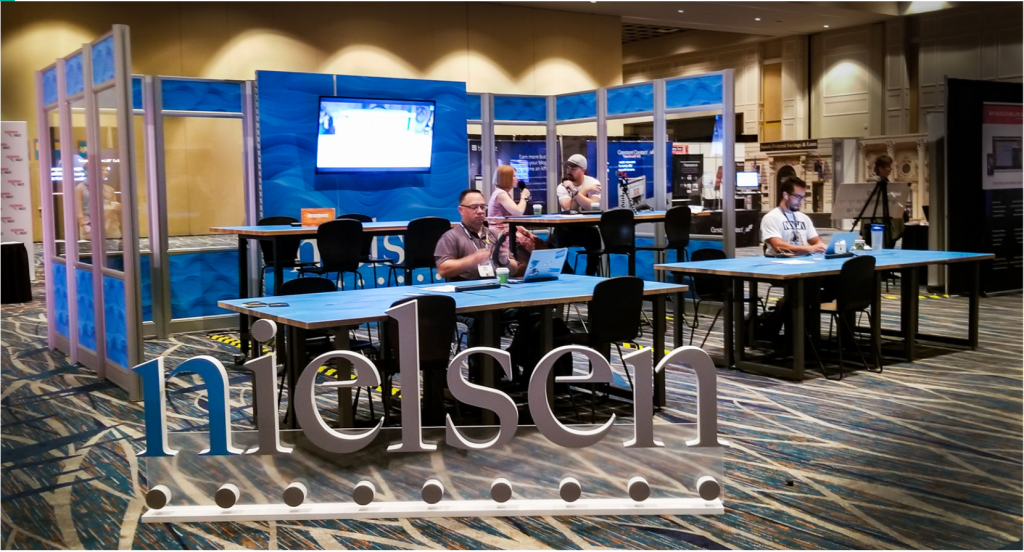 AGS also put together this rad shirt shop fit for a day at the beach so participants could buy some awesome memorabilia of the event. Our custom designed graphics turned an ordinary retail space into a fun shopping experience.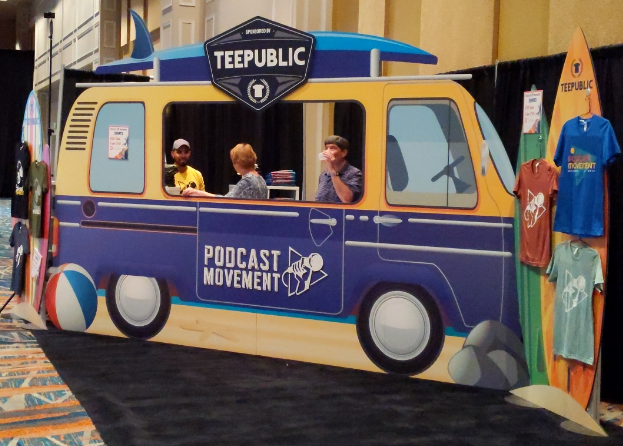 With hundreds of breakout sessions over the course of 3 days and numerous guest speakers, PM19 wanted dedicated space on the show floor to incorporate these educational opportunities. We produced and designed these rooms with the intention of participants feeling invited to the lectures with a transparency that allowed people walking by the chance to stop in.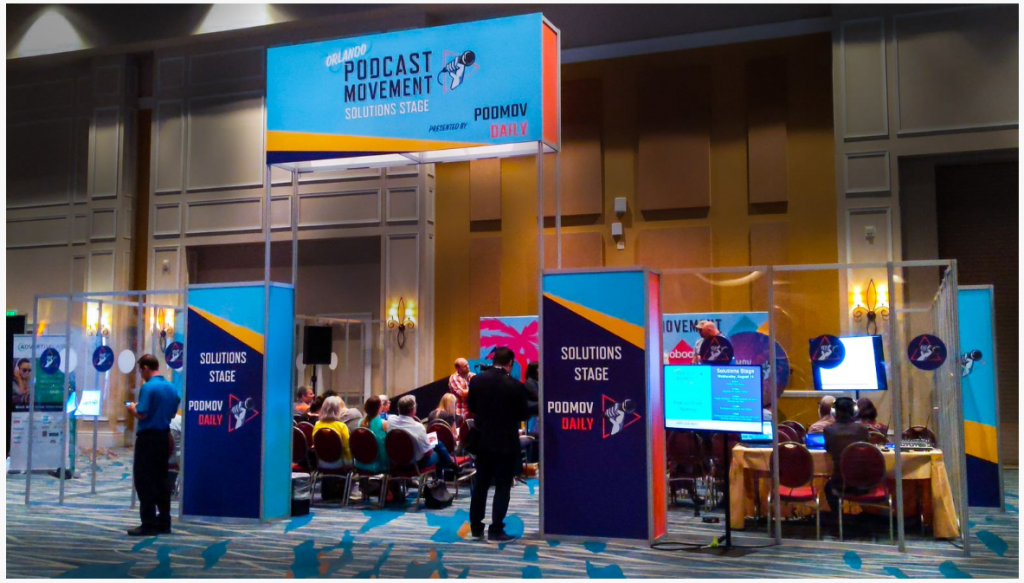 Turning Attendees into Bank Heist Heroes

AudioBoom was the Premiere Sponsor at PM19 and tasked our team with finding a unique way to promote the company's true-crime mystery podcast. Eager to deliver, AGS suggested an escape room challenge, which we designed, built and administered right on the floor.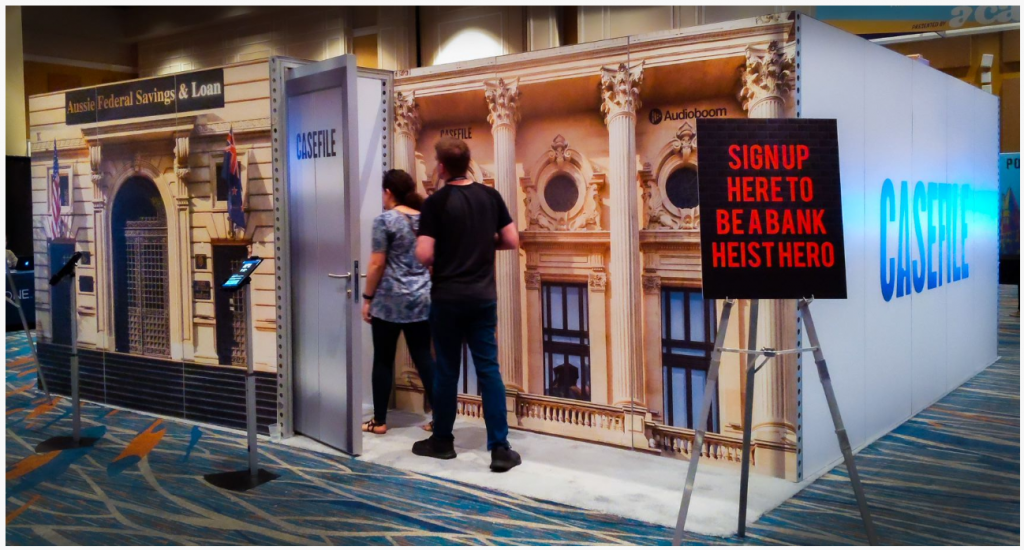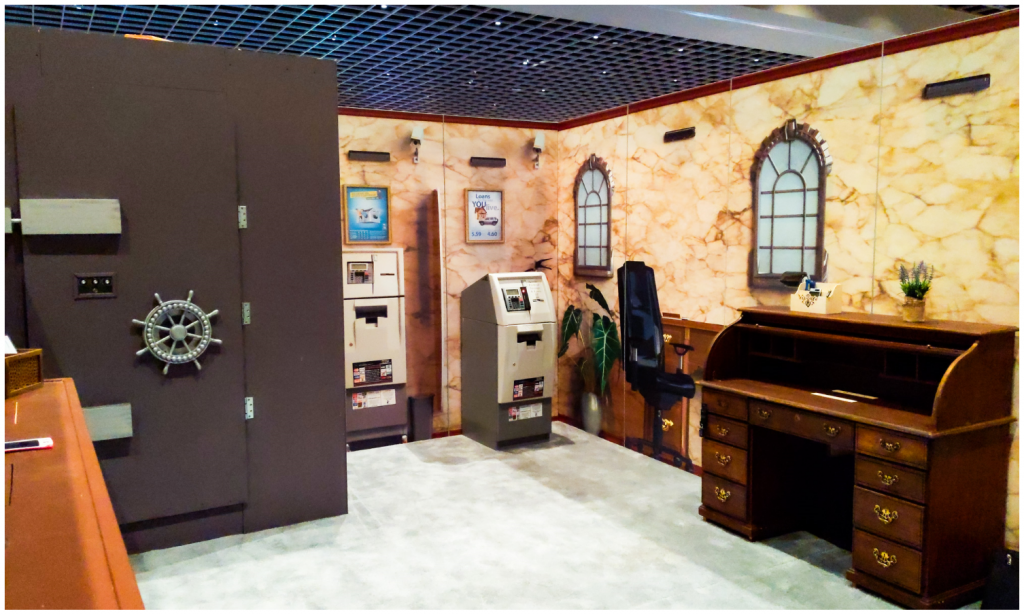 Groups of attendees were challenged to save the day as Bank Heist Heroes. The challenge was to foil bank robbers and save the bank staff and patrons locked in bank vaunt, all in 10 minutes or less.

A photo Op backdrop gave existing participants an opportunity to share their experiences on social media.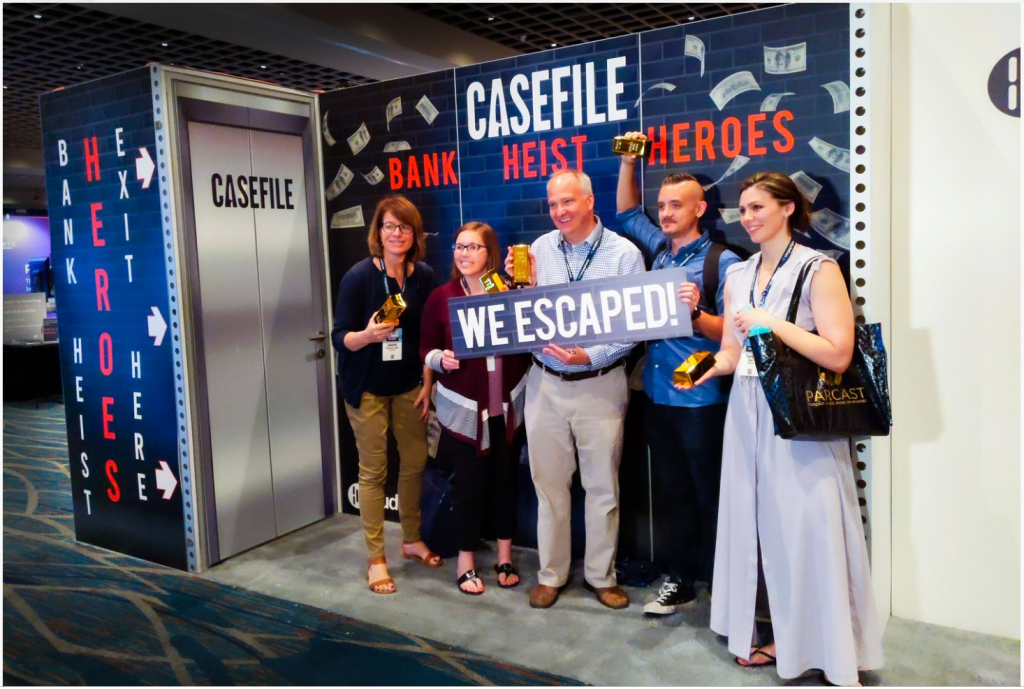 Going Beyond the Floor – Pitching Pods and Chilling Out

The excitement of the show didn't contain itself on the floor exclusively. Just a few short steps from registration, AGS built a Pitch Your Pod space that gave attendees a chance to land an exclusive contract. All you had to do was enter a tricked-out booth and record your idea.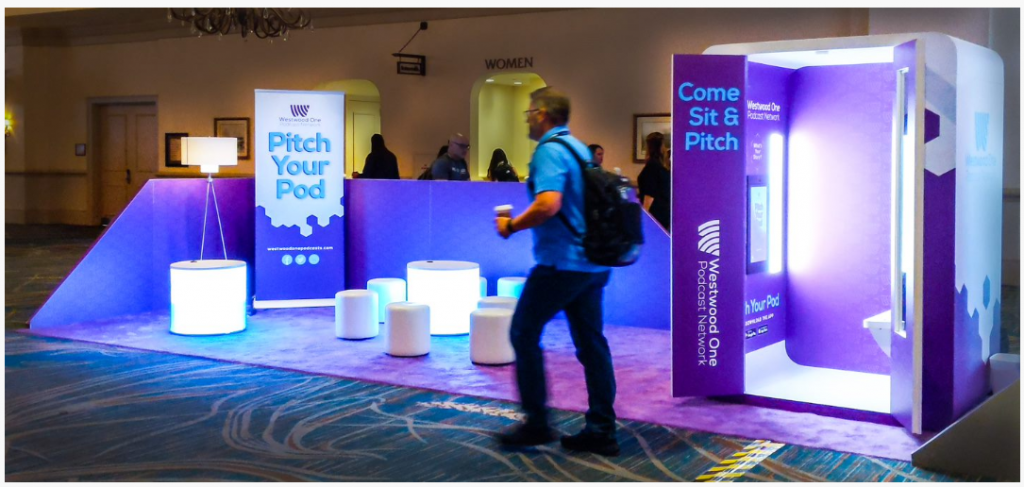 From a branding perspective, AGS designers opted for clean, linear graphics and structure that kept the look modern and inviting. The space was in constant use serving as a beacon of opportunity.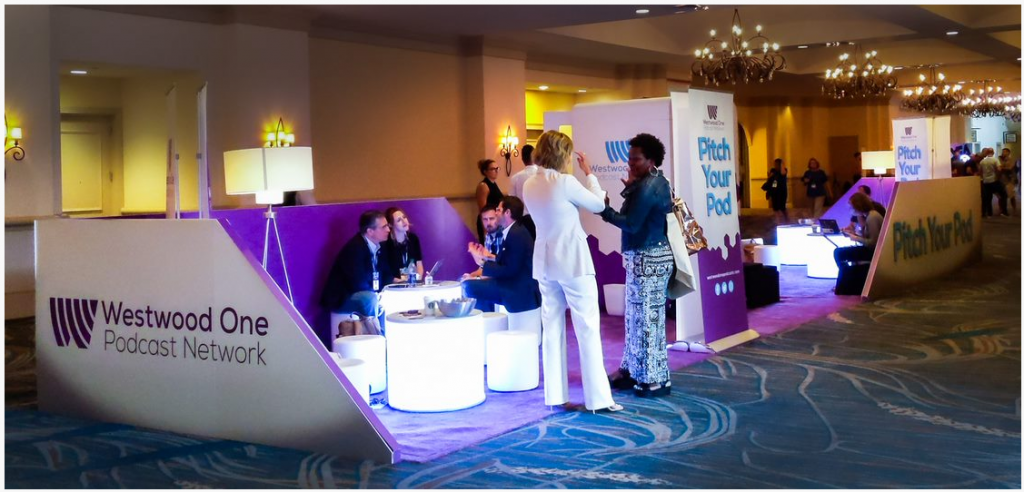 We rolled up our sleeves to give the attendees a much needed oasis in the Florida summer heat with ESPN's pod-cicles and an inviting, sleek space to rest and recharge.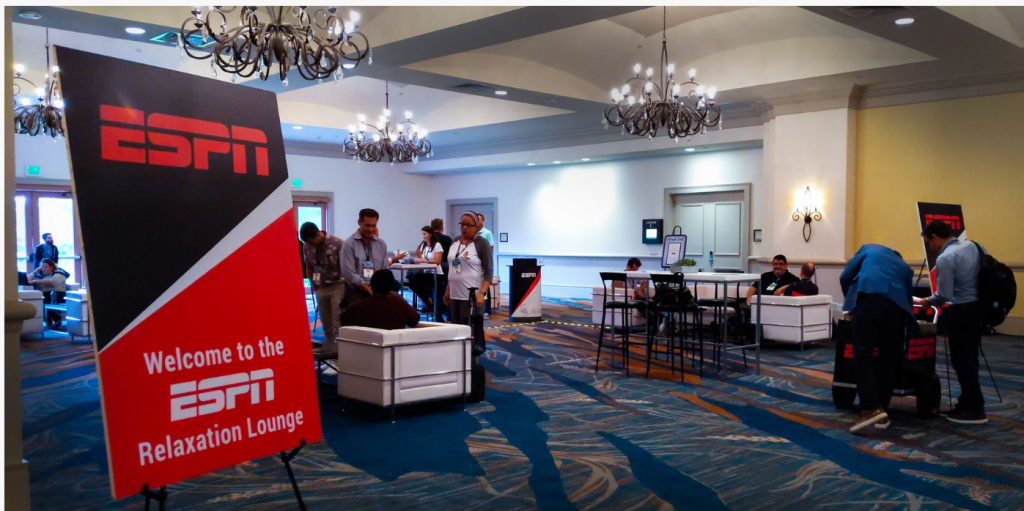 Stunning Show, Exceptional Results

Can't get enough? First, take a look at the rest of the Podcast Movement Portfolio for 2019. Then, take in this stunning video that captures the vibe of the show and all it had to offer:


«

Back