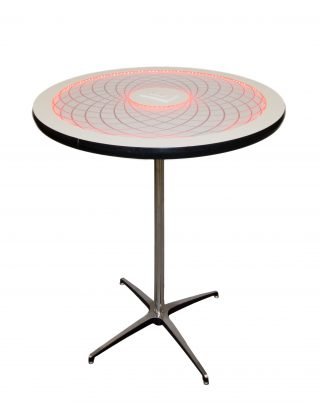 Written by Melissa Minkler, August 10th, 2016
We all know that immersive events are more memorable. One way to achieve this impact is to create multi-sensory experiences, stimulating as many senses as possible among attendees. Even enhancing a traditional sense, such as sight, can challenge audiences to experience your event in new, exciting ways.
That's why we tasked our creative services team with developing a series of new designs to make it easier and more affordable for clients to step outside the trade show box.
One of our favorites—the brightly lit LED ePed table—reimagines the traditional table top, giving a one-dimensional form a dramatic visual presence that powers your experience on the show floor. Affordably priced, it comes fully equipped with USB and electrical outlets for convenient, flexible use. It also offers endless possibilities for your exhibitors. We're in love with it, and hope you are too!
What do you think?
Click HERE to send us your feedback, or to inquire about how to incorporate the ePed table into your next event. We're eager to get your thoughts and suggestions.
«

Back