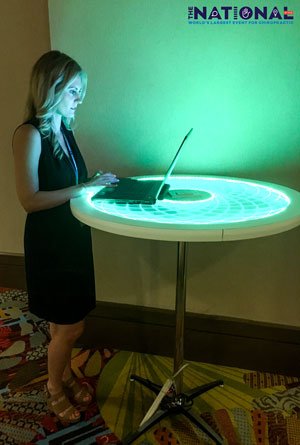 Written by AGS, February 16th, 2017
Today's meetings are more than face-to-face encounters aimed at exchanging business information. They're also one-of-a-kind experiences that attendees find enriching and will remember forever.
That could explain why creative show organizers everywhere are embracing the concept of the "multi-sensory event", which is specifically designed to appeal to the five senses. Interactive touch screens and creative audio-visual installations are quickly becoming the norm for this reason, along with innovative lighting solutions like our new LED ePed Table.
Take your cue from the Florida Chiropractic Association with their use of structures with creative lighting. They made quite an impact with the LED ePed Table. With flashing lights in unexpected array of bright colors, these unique tables were a visual showstopper. They functioned as much-needed charging stations and added flair to the show floor.
Also consider what attendees are hearing. Show organizers can incorporate appealing sounds that will grab a person's attention. Dramatic music or other unexpected sounds will do the trick. For example, during the Tobacco Plus Expo, event organizers used classic arcade music along with arcade game structures in classic 80s designs directed attendees to a networking and lounge area. Such creative installations also help break up the monotony of trade show aisles.

At AGS, we love events that stimulate the senses of both attendees and exhibitors. How would you create your own multi-sensory event experience? What can you do to make your next event unforgettable?
Here are a few other examples to ignite your creative energies:
• Cut Through the Clutter & Captivate
«

Back