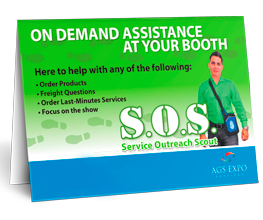 Written by Melissa Minkler, June 21st, 2017
On-Demand Assistance for Exhibitors A Big Hit at FAIA
After months of careful planning, move-in day had finally arrived for the Michigan Commercial Insurance Mutual (MCIM). Excited about the two-day event ahead, the sales team of five made its way into the convention hall, prepared to transform the display into a marketing masterpiece.
Suddenly, the unexpected happened. One of the most important elements of the display, a promotional banner, arrived broken. No one had the right tools to fix it. "What now?", they thought. It's every exhibiting company's worst fear, when things don't go as planned on show site.
That's when Omar Gutierrez, the AGS' Service Outreach Scout for FAIA, spotted the MCIM sales team out of the corner of his eye, they looked very panicked. When Omar appeared, brandishing Allen wrenches from his traveling toolbox, they knew everything would be okay. Together they fixed the problem and Omar was soon dubbed the "the guy who saved the day."
Helping companies overcome these types of last-minute challenges is precisely why AGS rolled-out its show site assistance program for exhibitors. In response to the level of support Omar provided to MCIM and many other exhibitors at FAIA, Cindy Molnar, the Director of Meetings, praised AGS for the company's "dedication to all aspects of our show".
No Exhibitor Left Behind: Support for All Issues Great & Small
The AGS Service Outreach Scout Program is a face-to-face service designed to provide an enhanced level of support to exhibitors.
As part of the company's No Exhibitor Left Behind service pledge, Scouts roam the show floor during move-in to seek out exhibitors who need immediate assistance. They are equipped with all manner of tools needed to fulfill exhibitor requests in real time, from shipping related and third-party issues, like electrical and internet, to help with booth assembly. The service aims to provide peace of mind to both exhibitors and show managers to ensure they have a smooth and successful event experience.
Features:
• Pro-active approach allows AGS to de-escalate situations before they become problems for exhibitors
• VIP exhibitors and first time exhibitors can be targeted for special attention
• Service is provided in the exhibitor's booth, so they don't have to walk to the service desk to place orders, pick up empty stickers and BOLs, check on the status of freight, or ask questions
• Saves show management time, money and a lot of hassle
If you are interested in this service, please contact your account manager for details. The scope and feasibility of services provided will be determined by a variety of factors, including existing show management practices, scheduling considerations and resource allocation.
«

Back