TPC Hardwall Booth Packages 
HUGE SAVINGS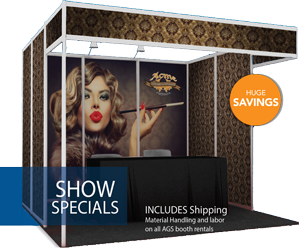 Need to make a statement at this year's Tobacco show? Order one of our hardwall booth packages.
Section Header
Cabinets
Shelving
Carpet
Lighting
Wastebaskets
Electrical Outlets
& More
Whether you're interested in our 10'x10′, 10'x20′,  20'x20′ or custom options, just reach out via phone or send us an email.  We'll send over a quote & information on how best to order additional services for this year's show!
Call Nicole at 407.219.3908 or email clynn@ags-expo.com for more information.